Chennai city has been expanding exponentially in the last few years. Since, it has exceeded its optimum size, bifurcation of the city region becomes necessary to administer better and deliver quality urban services.
Avadi, one of its suburbs, has been growing rapidly and accommodates a bulk of the population. So, aggregating smaller local bodies of the Avadi municipality into an upgraded Corporation provides the institutional infrastructure for better governance.
The Government, therefore is planning to create an independent satellite municipal corporation adjoining Chennai, headquartered in Avadi. Among the new civic bodies being planned, Avadi in Tiruvallur district is likely to be the largest, covering an area of 148sqkm.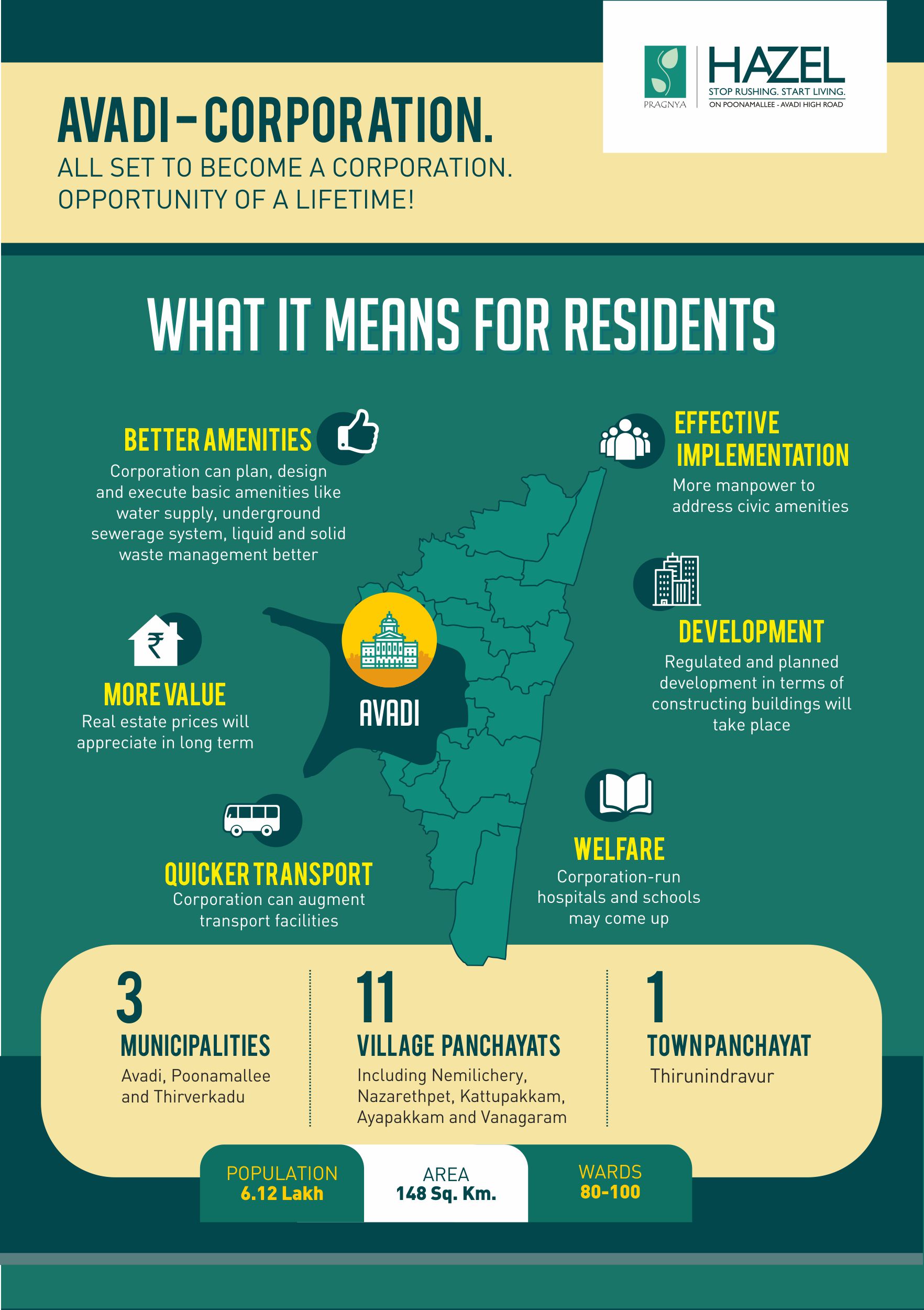 Better amenities: Better technical knowledge for planning, designing and execution of basic amenities such as water supply, underground sewerage system, liquid and solid waste management.
Well-equipped staff: Adequate staff to address a multitude of civic requirements.
Planned infrastructural development: Infrastructural development will happen in a regulated and planned manner.
Augmented connectivity: Corporation will have quicker transport facilities.
Social infrastructure: Opportunities for corporation-run hospitals and schools to come up.
According to experts, infrastructure and connectivity are two major factors that influence growth of a locality. This will increase the residential pockets in the area, which will result in the appreciation of land value in the medium to long term.
Avadi land prices have already gone up 23% from Rs2800/sqft in 2014 to Rs 3450/sqft in 2016. The prices are set to accelerate further with the announcement of the Government to create a corporation in Avadi.
While, this is a windfall for the resident owners in Avadi such as the flat owners of Pragnya promoted Hazel apartments, prices are still affordable in the Rs3500 per sqft range.
Avadi has already been rated as the best place to invest in Chennai, according to CREDAI. This corporation announcement has come as icing on the cake for prospective buyers.
So, if you are looking to invest in property, the right place is Avadi and the right time is NOW.